We at Holland Landscape have handled complete Landscape Design projects for property owners across Broken Arrow, Tulsa, Coweta, Owasso and Catoosa. Over the years, we have also catered to a large number of customers in and around Bixby, Jenks, Muskogee, Sand Springs as well as Claremore. The different services we provide are: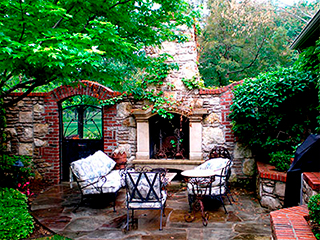 Landscape Design
Most landscapes are the combination of any different features such as softscaping, hardscaping, water features, outdoor lighting and more. We have the expertise to use all these elements in the right proportion to create stunning landscape designs. These will be based on the kind of landscape features you want and your specific ideas and function needs. Care is taken to use the right kind of elements in the design and this keeps the landscape low-maintenance and adds to its longevity as well. Our landscape designers work very closely with you to understand exactly what your requirements are and then provide excellent, custom solutions that meet your requirements. Read More About Landscape Design »


Landscape Consultation
Do you want to consider replacing some bushes or trees all over your house to increase its curb appeal, make your backyard a place to host family gatherings, or freshen up your yard? If so, allow us to be the ones to assist you in realizing your landscaping goals. Ideas are the basis for any design. We will consult with you extensively to understand your landscaping goals and specific needs. Our expert team will consider your input as they work to create a plan for your home that is functional, aesthetically pleasing, and within your price range. At Holland Landscape Inc., we place a premium on planning each project thoroughly. If you want your project to be handled meticulously, we have everything we need in one place. Trust our talented designers and planners to bring your ideas to life and help you create the most attractive outdoor spaces that reflect your style. Read more about landscape consultation »


Landscape Installation
We have the experience and the skill to provide outstanding comprehensive landscape Installation solutions. We use top-quality materials in our work &only highly-experienced landscape installers tackle the job. This detailed approach ensures that your landscaping is resilient and durable. Our landscape installation services are typically part of our end-to-end design and installation solutions. We have experienced onsite supervisors that ensure the entire project progresses as scheduled and that it is completed within the committed timeframe. We use top-quality materials and deploy skilled and experienced personnel for the job. Read More About Landscape Installation »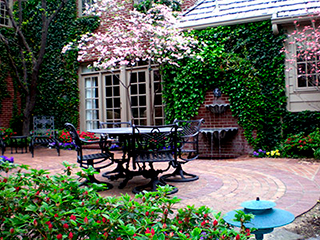 Irrigation
No matter how big/small your landscape is, it will have a certain number of plantings and grass; this means it requires regular watering and it's important to ensure that your landscape has the right kind of irrigation systems installed. We can design garden irrigation plans that include the installation of automated sprinkler systems, soaker hoses and drip irrigation systems. In combination, these help ensure that your landscape's watering needs are met. We use high-quality irrigation systems in our work and this ensures you won't be saddled with perpetual maintenance issues. If you like, we can also install rain sensors and this adds to the energy-efficiency of the installation. Read More About Irrigation »


Landscape Lighting
When you have well-designed and maintained landscaped areas, you want to be able to use them optimally even after dark; this is possible only when you get well-planned exterior lighting. We can install paver lights, boundary lights, driveway and pathway lamps, floodlights and more. We also focus on energy-efficiency and recommend the use of LED bulbs as these are 80 percent more energy-efficient than standard bulbs. We also install sensor lighting as required as well as transformers, dimmers and relays. All these fixtures and fittings are planned in such a way that they will increase the functionality of your garden and yard spaces. Well-illuminated gardens and yards also become deterrents for burglars and vandals and add to the security of your property. Read More About Landscape Lighting »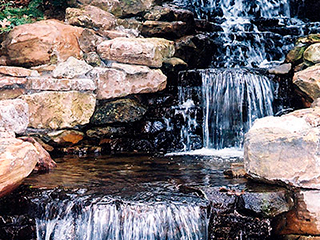 Waterfalls & Fountains
Water features are a very popular addition to landscapes and many people like to get fountains or waterfalls installed on their properties. We can custom design these features for you and can create casual or formal-styled water features. A waterfall can also continue and lead to a stream that meanders through your landscape while a fountain creates the perfect focal point in the smallest of yard spaces. We have the expertise to design and install the kind of fountain or waterfall you want at very reasonable pricing. We also use very resilient materials that are able to weather climatic changes as these features are always exposed to the elements. Read More About Waterfalls & Fountains »


Retaining Walls & Patios
Many homeowners like to add a patio installation in their yard; this could either be an open-to-the-air or a semi-enclosed installation. Some people also like to build an outdoor kitchen on the patio and this becomes the ideal perfect relaxation & entertainment spots. We use exterior-grade materials in the patio installation and also construct retaining walls where required. These walls help prevent soil erosion and provide support to the landscaping. These walls could be made of concrete natural stone, brick, mortar or CMUs. They are custom designed to fit into your landscape and blend in perfectly with the rest of the features there. Read More About Retaining Walls »


Decks & Gazebos
We are experienced landscapers that can handle all aspects of designing & installing outdoor elements such as decks and gazebos. In most instances, these elements are installed as part of a broader landscaping project. But if you need these installed as part of a landscape upgrade, we can handle that project too. We build decks of hardwood as well as composite materials and will customize the size and design of the installation as per your requirements. Many of our customers also request for gazebo features. These are essentially standalone structures that can be built at any point in your yard. They could be made of timber, composite or metal. Read More About Decks & Gazebos »


Outdoor Kitchens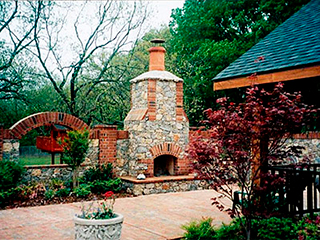 Outdoor kitchens are a very popular feature in residential landscapes and many people like to get these installed on their properties. We can provide custom outdoor kitchen design and installation solutions; as part of this project, we can design and install the counter tops, kitchen cabinets, outdoor lighting, seating and flooring. We can also plan the fuel installation and ensure there is plenty of space for all your kitchen appliances.

If you like we can also design and install a fire pit or fireplace in your outdoor kitchen. If your yard has sloping land, we can excavate and level it and then construct retaining walls with in-built seating along the periphery of the kitchen. These serve a dual purpose and provide support to the dug-up slope as well as seating in the kitchen space. Read More About Outdoor Kitchens »

We believe in providing customized solutions to our clients, and focus on maintaining very reasonable Landscape Design costs. You can call Holland Landscape experts and discuss your project details with our experts at this number - 918-747-8809. If you prefer, send us your queries via this online form and we will contact you shortly.